Anthony Joshua has laughed off claims of drug use after Joseph Parker dubbed him the "king of steroids".
Joshua and Parker will fight at Cardiff's Principality Stadium on 31 March, the first time in history that two reigning heavyweight world champions have met in Britain.
Joshua, 28, holds the IBF and WBA belts, while New Zealander Parker is the WBO champion.
"I've heard so much in trash talk that nothing's new anymore," he said.
"I know my records are clean, that's why I don't bite at it."
He added: "Trash talk has a place in boxing if it's natural but you shouldn't use it as a tool to sell the fight. I would never put on an act to sell a fight."
Parker made the claim in an interview with a New Zealand radio station after the fight was confirmed on Sunday.
However, speaking to BBC Radio 5 live on Tuesday, Parker admitted he had said "silly throwaway lines that don't mean anything". "I don't see him as a drugs cheat," he added.
Joshua had mocked Parker on the BBC's Graham Norton Show on Saturday – calling him the "king of pies".
Both boxers will enter the ring looking to defend their unbeaten professional records, with London 2012 Olympic gold medallist Joshua having won all 20 of his bouts.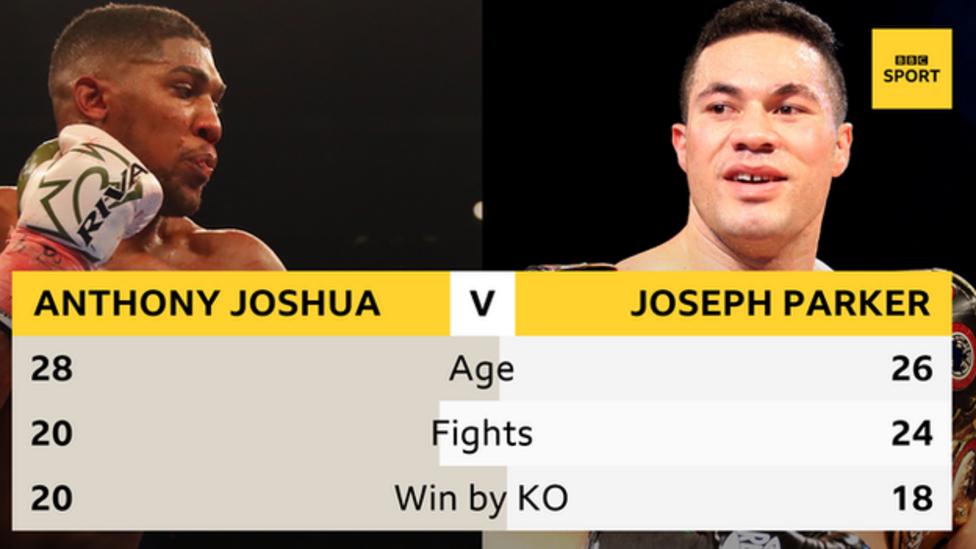 His opponent's camp has suggested Parker will target the Joshua's "weak chin" – using Wladimir Klitschko's knockdown of the Brit last year as evidence before Joshua bounced back to be crowned WBA world championat Wembley Stadium.
"Three times I've been hurt or stopped," Joshua said, speaking at a news conference in London.
"What I have learned from those adversities and storms, it will take more than any human to stop me from this journey."
Parker is undefeated in his 24 professional fights, with 18 of those wins coming by a knockout.
"It's an exciting time to be a heavyweight," said the Kiwi.
"I've watched [Joshua] for a long time. I know his strengths, he knows mine. I know his weaknesses and he thinks he knows my weaknesses.
"Hopefully I will catch him on the chin and knock him out."