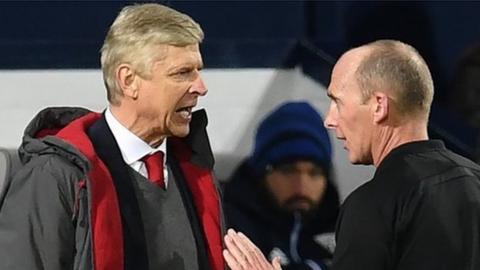 Arsenal boss Arsene Wenger called referee Mike Dean "not honest" and "a disgrace" after the Gunners' 1-1 draw at West Brom on New Year's Eve, the Football Association has revealed.
Dean gave a controversial late penalty, which the Baggies scored in a 1-1 draw.
Wenger entered the officials' changing room and confronted Dean, according to a disciplinary panel's reasons for the manager's three-match touchline ban.
The referee said Wenger was "very aggressive".
Written testimony from Dean, his assistant referees and the fourth official are contained in the report and give similar accounts of the row.
Dean said: "As we've entered the dressing room after the game Mr Wenger stood behind us in the doorway and told the West Brom steward to 'let him in'.
"He was very aggressive leaning towards me, pointing aggressively at me saying: 'You're not honest' on numerous occasions.
"I replied: 'So you're calling me a cheat.' He replied: 'I maintain what I say, you're not honest.'
"He then said: 'You've done this to us many times before, you're supposed to be professional, you're a disgrace.' He was then ushered out of the room by the West Brom safety officer."
An independent disciplinary panel on 5 January gave Wenger a three-game touchline ban and £40,000 fine for the incident but the panel's written reasons were only published on Tuesday.
Wenger had admitted "his language and behaviour was abusive, improper and questioned the integrity" of Dean.
The Frenchman was angered by the award of an 89th-minute penalty for handball against Arsenal's Calum Chambers.
Wenger watched Arsenal's fixtures against Nottingham Forest, Chelsea and Bournemouth from the stands while he served his ban.
He has also been formally warned about his media comments before and after the Chelsea game. He had described disputed refereeing decisions as "concerning coincidences".
Stadium ban was considered
The report into the West Brom incident states that Wenger did not request a personal hearing after he admitted a misconduct charge.
"The Regulatory Commission considered all of the evidence presented and ruled there to be a number of critical points," it said.
"However, Mr Wenger, as per his written statement, is an incredibly experienced football manager. He has occupied this position since 1996. This is his second misconduct charge within a 12-month period.
"Whilst arguable, it is not accepted that there is ambiguity of interpretation in the language used based on English not being Mr Wenger's first language. There is simply no justification for this behaviour."
A year ago, Wenger was given a four-match touchline ban and £25,000 fine for his behaviour in a win over Burnley.
On that occasion, Wenger was charged with verbally abusing and pushing fourth official Anthony Taylor after being sent off.
This time, the panel discussed a possible stadium ban but agreed it was not warranted. However, it would consider this if there is a similar incident in the future.